Podcast: Play in new window | Download (Duration: 43:08 — 19.7MB)
Subscribe: iTunes | Android | RSS
The Self Defense Radio Network has many podcasts involved and one of them is Armed Lutheran Radio. Host Lloyd Bailey joins me as my special guest this episode to discuss concealed carry, competition shooting, different types of handguns and the theme of his show. You'll enjoy it.
Links and Show Notes:
Armed Lutheran Radio Episode 41, Voting for your neighbor
Show Sponsor:
Concealment Solutions, use coupon code "handgunworld" to get 10% off your order.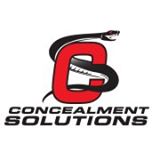 Network Sponsor: use tracking code "Paul Lathrop"
Armed Citizens Legal Defense Network: